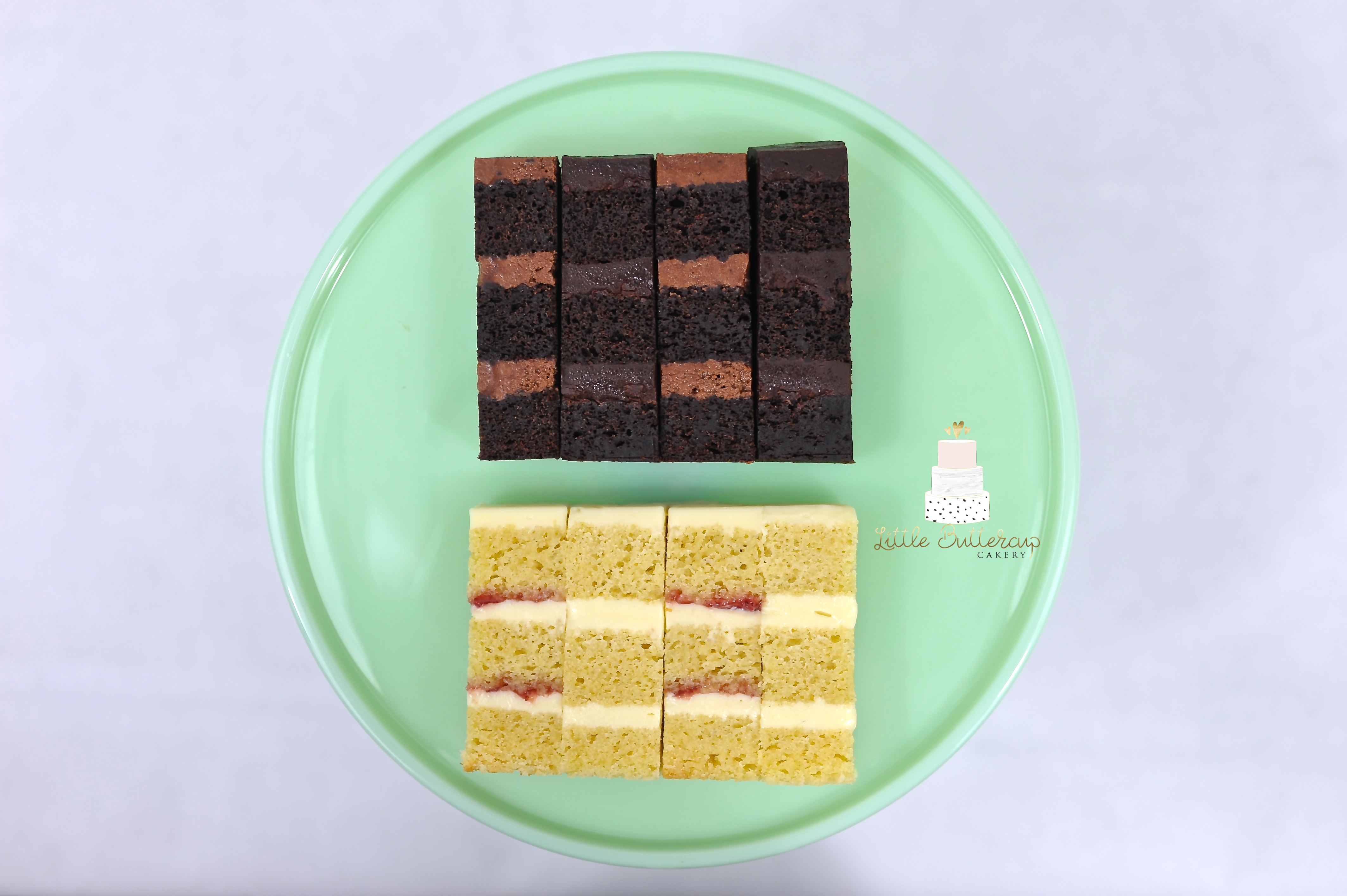 We believe that beautiful cakes should not only look amazing but should taste fantastic too. That is why we pride ourselves in using only the finest and freshest ingredients. For example, when we say we only use premium butter – we mean the best butter available,free range eggs fresh from our local farm and of course a lot of love and passion!!
Pricing
All of our cakes are bespoke therefore the prices do vary. The following are the guide price only.
Celebration cake 
All of our cakes are presented on a decorated board with matching ribbon and wording to your requirements.
The cake is bespokely designed for you and it is a one-off, incorporating your theme and inspiration.
The sketch of the cake design will be sent for your approval after the deposit is secured.
A typical round 6″ decorated cake prices start from £90
Cupcakes
Our beautiful cupcakes are larger than your standard size and baked in a sturdy paper cups. They are more like a mufin in size with a delicious filling of your choice inside the cakes.
Prices start from £3.80 for basic swirl of your colour and flavour buttercream choice.
Decorated fondant cupcakes prices start from £4.50 each.
Hand-piped 3D flower buttercream cupcakes prices start from £5.20 each.
Minimum order of 12
Flavours
Our available flavours are,
Madagascan vanilla cake, layered with smooth and delicious buttercream and strawberry preserve.
Moist zesty lemon cake, layered with lemon curd and white chocolate and vanilla beans buttercream.
Orange blossom cake, beautifully mosit orange infused cake with home made orange curd and white chocolate buttercream.
Carrot and peacan cake, layered with cream cheese buttercream and toasted peacan nuts.
Expresso coffee cake, layered of moist coffee cake infused with Tia Maria and vanilla latte buttercream.
Salted caramel cake, layered with Dulce de leche buttercream and sprinkle of sea salt flakes.
Chocolate salted caramel cake, moist dark ripple chocolate and caramel cake layered with salted caramel buttercream and sprinkle of sea salt flakes.
White chocolate cake, rich, sweet and mellow taste of white chocolate cake with vanilla infused buttercream and raspberry and prosecco preserve.
Classic chocolate cake, moist and rich chocolate cake layered with Belgium milk chocolate buttercream and milk chocolate ganache.
**Oreo chocolate cake, infused with crushed orio cookies and layered with chocolate ganache, orio and vanilla buttercream.
**Chocolate mud cake, seriously chocolate cake made with premium Belgium chocolate and layered with Belgium dark chocolate ganache.
**Red velvet cake, classic beautiful red colour sponge layered with vanilla infused cream cheese buttercream.
Different combination of flavours are available for tier cakes.
**Additional charge for these flavours.