What a stunning couple Sacha and Mike are!!
I had the pleasure of making their wedding cake which was set up at the stunning St Audries Park wedding venue.
The colour inspiration was from Sacha's beautiful soft peach wedding dress.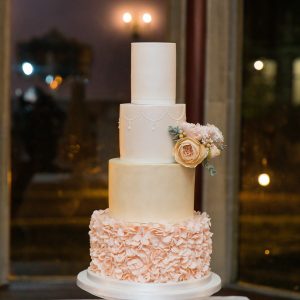 I paired the soft Champagne gold colour and blush pink/ peach with little detail of hand piped pearl drops to match her earings. The colour of the bottom tier ruffles matched perfectly with Sacha's dress. They are truly stunning couple, like the prince and princess.